ATHE Annual Conference Registration
By
Registration is Now Open for the 2017 ATHE Annual Conference
Thursday, August 3, 2017 to Sunday, August 6, 2017


Planet Hollywood Resort & Casino
Las Vegas, NV
General Info | Keynote | Workshops | Tours | Pre-Conference | Registration | Exhibit, Advertise, Sponsor | Hotel | Travel | Las Vegas | Student Fellowship | Committee
Registration Details
Register online by June 16 to qualify for the early bird discount ➜
The conference registration fee includes:
Keynote Address
Choice of More Than 300 Sessions (Additional Fees for Workshops)
Exhibit Hall Admission
Two Receptions
Author Book Signing
Beverages, Daily Morning Coffee and Roll Service
Hotel Details
Planet Hollywood Resort and Casino
3667 S Las Vegas Blvd
Las Vegas, NV 89109
866-919-7472
Planet Hollywood Resort and Casino
Hotel Map / Directions
Book today to receive the special room rates ➜
Your reservation must be made by Friday, July 7, 2017.
ATHE has secured a special room rate of $145 USD for single/double available until Friday, July 7, 2017 or until the contracted room block is exhausted, whichever comes first. A $22 per room, per night Resort Fee will be charged in addition to the room rate set forth above.
Single Rate
$145 ++
Double Rate
$145 ++
Additional persons will be charged at a rate of $30 per person per night, with a maximum of (4) persons per guestroom.
Check-In Time 3:00 pm
Check-Out Time 11:00 am
See you in Las Vegas!
---
2017 ATHE Annual Conference Exhibit, Advertising, and Sponsorship Opportunities
Looking for some visibility for your program, product or service?
The ATHE Annual Conference in Las Vegas (August 3-6) will be upon us soon! ATHE has a few great opportunities for you to get your message out including advertising, exhibit space and conference sponsorships.
---
ATHE GC Elections are Underway!
All voting members were sent ballots via email on Monday, May 22nd. We invite you to cast your ballot.
If you did not see the email please check any "auto file" folders you may have set-up and/or spam folders. Voting closes June 23rd. If you are a voting member (an individual member or the main contact for an organizational membership) and did not receive the ballot please contact erice@athe.org and we will make sure it gets to you.
---
New Theatre Topics Site
The Editors of Theatre Topics would like to officially announce the journal's new website.
Since we began creating online-only content for Theatre Topics beginning with Volume 25.3, it has been the goal to create a dynamic and vital online presence for the journal. Volume 27:1 is the first issue on our new website, which was made in collaboration with the great team of web designers at Johns Hopkins University Press. With the website now up and running we plan to make available resources that take advantage of the interactive capacities of digital media (and are not available in our print versions or on Project Muse). The website also allows us to be more responsive and available to a larger audience.
For the rollout of the website, we have three new works that complement the print edition of 27.1, a special issue on "Latinx Performance": an essay by Noe Montez on Latinx Wikiturgy in the classroom and two Notes from the Field that describe and analyze aspects of the Latinx Theatre Commons. Teresa Marrero focuses on the functioning of the LTC as a "commons," and Maria Enriquez and Christopher Goodson break down the events of the 2016 LTC convening in Seattle. There is also a follow-up piece to Montez's essay with links to the Wikipedia pages of Latinx theatre artists his students have created.
We hope that you will find this new format useful and productive, and look forward to your submissions as we further Theatre Topics as a multi-platform space for dissemination and dialogue.
Visit the new Theatre Topics now ➜
Peter A. Campbell, Online Editor, Theatre Topics
Gwendolyn Alker, Editor, Theatre Topics
Lisa S. Brenner,Co-Editor, Theatre Topics
---
New Resource Guide from Advocacy Committee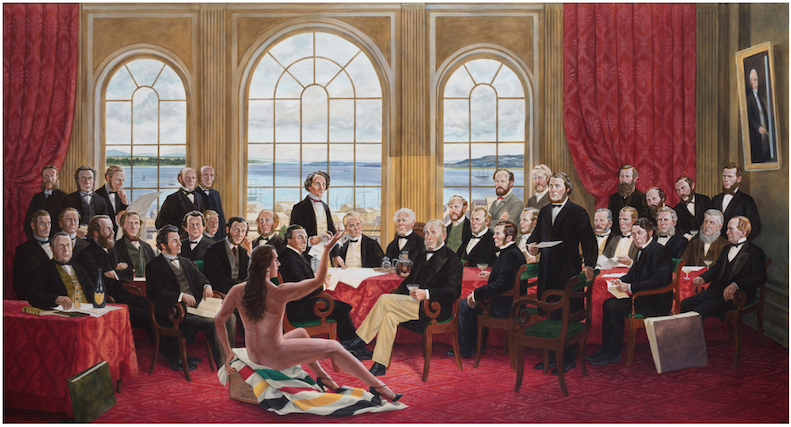 "The Daddies" by Kent Monkman, 2016 This syllabus on Indigenous Theater and Performance of the Americas by Lily Mengesha (PhD candidate, Theater and Performance Studies at Brown University) is the first in a series of resource guides commissioned by the Advocacy Committee at ATHE.
We hope these syllabi will help you learn, and help you revisit your own curricula. You're free to appropriate sections of this syllabus for your own classes, but first, work through the syllabus yourself, and follow the critical story that Lily has laid out for us.
View the Indigenous Theater and Performance of the Americas Syllabus ➜
Kareem Khubchandani, Chair, Advocacy Committee
---
Roger Gross, Shakespearean Scholar and Longtime University of Arkansas Department of Drama Faculty Member, Dies at 86
Credit: University of Arkansas News

Photo by Patricia Relph Roger Gross, professor emeritus in the Department of Drama, now the Department of Theatre in the J. William Fulbright College of Arts and Sciences, passed away on April 23, 2017. He joined the University of Arkansas in 1980 as the first chair of the Department of Drama.
Although drama classes and activities had been around since the earliest days of the university, they had always been under the umbrella of the Department of Speech, or later Speech and Dramatic Art. Gross began a new era with the newly formed department that offered B.A. and M.A. degrees, supported a lively production program and included five full time faculty members in addition to himself.
Gross served as chair of the department for five years, and continued to teach until 2011. During his 31 year tenure, he directed 48 productions for the department, several of which were successful entrants in the Kennedy Center American College Theatre Festival.
He was a champion of new works and directed upward of a dozen, including new scripts by Steven Sater (award-winning playwright of Spring Awakening) and Kent R. Brown. He was also one of the co-founders of the Mount Sequoyah New Play Retreat. Over the course of its nine-year year run, playwrights and professional mentors were brought together for three weeks each summer to write new plays, see them developed by a company of experienced actors and ultimately receive staged productions for public audiences.
It was his work with the Mount Sequoyah project that led to the creation of the M.F.A. playwriting track within the department's new Master of Fine Arts degree program. Gross was one of the faculty who helped create the M.F.A. program in 1995 and was active in it until his retirement. Over a dozen students completed their M.F.A. playwriting degrees under Gross' mentorship, including the writing and production of several plays each. And the majority of those graduates are actively writing and/or teaching today.
A true generalist within the area of theatre education, with equal competence in all the performance and scholarly arenas, Gross was most closely connected to mentoring new playwrights, teaching dramatic theory and criticism and, especially, working with the performance and literary aspects of William Shakespeare's drama.
"Acting Shakespeare" was always a popular course that included intensive training in speaking Shakespeare's verse. His work in the classroom extended to the stage whenever he directed one of Shakespeare's plays, eight during his tenure here, including detailed language guides for the actors and meticulous attention to the rhythms of the verse.
Gross was a prolific scholar with countless articles and conference papers on his resume. His creative, research and academic reputation led him to become National Chair of the University/College Theatre Association. His book, Understanding Playscripts: Theory and Method, was also a well-reviewed text.
He was also active as a performer, composer, playwright and musician. Audiences in greater Northwest Arkansas remember his performance in the title role of King Lear, produced by the Department of Drama and directed by the late professor Patricia Romanov. Gross also performed that same role shortly after in a professional production in the San Francisco Bay area.
Additionally, Gross wrote musical scores for many of his productions, new adaptations of the eight Shakespeare plays he directed, and several adaptations of works by other European writers. He also acted in a number of local productions and was cast in several major motion pictures that were filmed locally.
His commitment to his students, play production, scholarship and the profession are legendary. Over his 50 years of teaching – 31 at the U of A – directing and creative endeavors, he made a powerful impact on his students, the faculty, his professional colleagues and the community. His presence will be missed. Gross was 86.
© 2017 Association for Theatre in Higher Education
1000 Westgate Drive, Suite 252
St. Paul, MN 55114 USA
Phone: (+1) 651-288-3430 | Fax: 651-290-2266 | Email: info@athe.org
Username: | Reset Password | Manage Email Preferences